Congratulations to our 2015 Study Abroad Photo Contest winners!
Postcard Perfect
Cultural Snapshot
Badger Pride
Your Best Instagram
People of the World
Postcard Perfect
"A picture is worth a thousand words." Submit the photo you think is postcard quality and says the most about your unique study abroad experience.
1st Place: "Lagos"
Photographer: Maria Georgen
Photo Location: Lagos, Portugal
Description: For our final travel weekend, a group of us traveled to Lagos, Portugal through Discover Excursions for a beach weekend. Lagos is considered to be the Caribbean of Europe with some of the most beautifully colored water I have seen. This photo depicts all of the different activities available for tourists in Lagos – from lounging on the beach to kayaking through las cuevas (caves).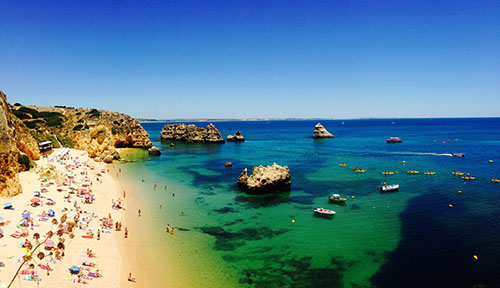 2nd Place: "Fitz"
Photographer: Jane Thompson
Photo Location: Patagonia, Argentina
Description: After a tiring two hour climb almost directly up the side of a mountain, this was the final stop. Right in the heart of the Glacier National Park of Argentina, the Fitz Traverse demands attention. Getting the the top required a lot of teamwork and encouragement but the bright blue water and snowy peaks were breathtaking.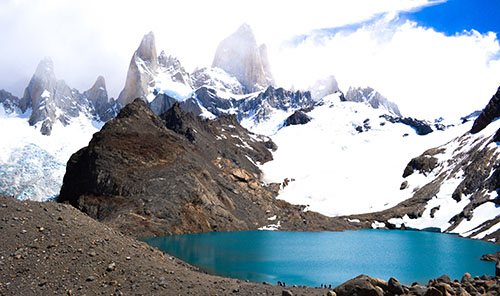 3rd Place: "Wandering Soles"
Photographer: Lydia Kaminsky
Photo Location: Paris, France
Description: After a long day of touring Paris, eating crepes and trudging through the rain, it just felt right to sit for a while and put my feet up. And I couldn't have asked for a better view.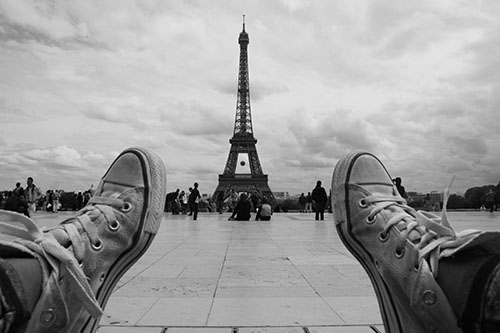 Cultural Snapshot
Studying abroad helped create your "home away from home." Submit a photo that shows us how the local culture became a part of your routine.
1st Place: "Bikes and Bananas"
Photographer: Amelia Remiarz
Photo Location: Kathmandu, Nepal
Description: This photograph was taken out of a bus window on our long journey from Kathmandu to the village of Simle. Shops such as these, selling everything from fruit to household items, were often found lining the roads. Food items like samosas were also sold from these shops and quickly became one of my favorite local foods. As seen in the photograph, bicycles and motorbikes are one of the easiest ways to navigate the congested streets of Nepal. Their compact size allows them to easily move through traffic that often seems to be at a perpetual standstill.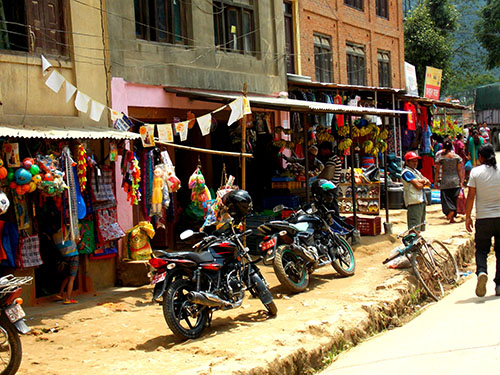 2nd Place: "Biking through Copenhagen"
Photographer: Grant Close
Photo Location: Copenhagen, Denmark
Description: Adopting the local mode of transportation during our time in Denmark.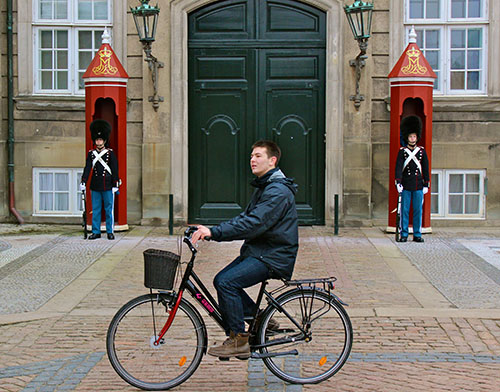 3rd Place: "A Random Night"
Photographer: Yi Li
Photo Location: Paris, France
Description: The night I took this photo, I was roaming the Latin Quarter by myself. I saw many Mediterranean restaurants, lined up on the narrow streets. It was so crowded and I felt overwhelmed since people from these restaurants shouted loud to me, trying to assure me that they had the best food in the area. I decided to explore by myself and see where to eat. I went to another narrow street and I saw this man who talking on his phone, smiling. It was a random night for him as well for me, and I understand how life could be just this simple. After a busy day of work, he takes a rest and talks to someone he cares about on the phone. The scene stayed in my mind.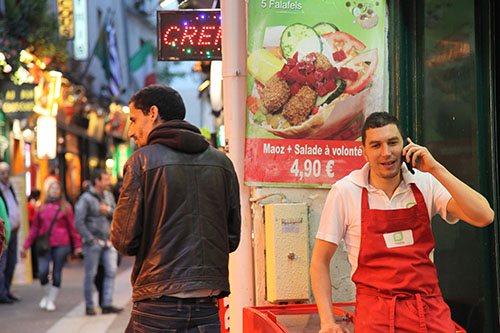 Badger Pride
Show us how you demonstrated your Badger pride while abroad (even better if Bucky somehow makes an appearance!)
1st Place: "Jumping Around"
Photographer: Austin Lanners
Photo Location: Edinburgh, Scotland
Description: Jumping Around on Calton Hill overlooking a foggy Edinburgh, Scotland.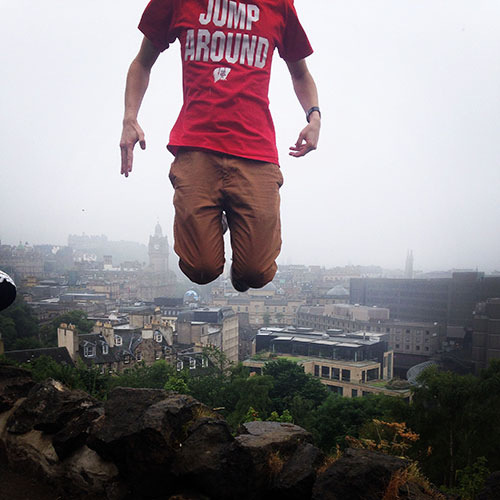 2nd Place: "Badger Pride Ecuador Style"
Photographer: Samantha Knudson
Photo Location: Punta Prieta, Ecuador
Description: Photo of another classmate throwing up the Wisconsin 'W' in front of the most amazing sunset we had seen on our weekend excursion to Punta Prieta in Ecuador.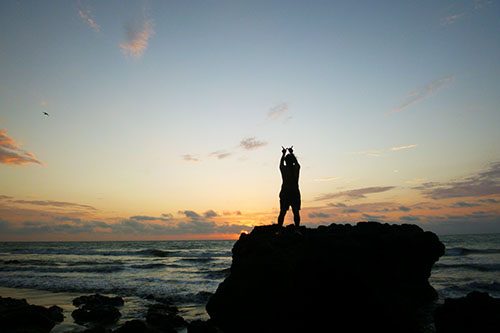 3rd Place: "Wisconsin in Sevilla"
Photographer: Bailey Jaworski
Photo Location: Sevilla, Spain
Description: From atop the Giralda in Sevilla, Spain. This photo was snapped to capture the contrast of the Wisconsin "W" against the beautiful and colorful city of Sevilla.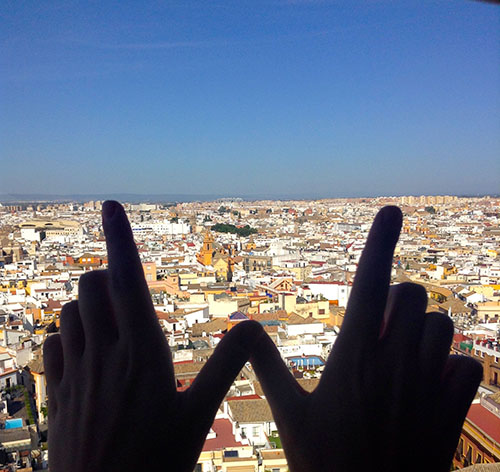 Your Best Instagram
Love Instagram? So do we! Show us how you used this popular mobile App to make one of your photos from abroad even more breathtaking than the original.
1st Place: "Picture Perfect Sunset"
Photographer: Paul Davidson
Photo Location: Rio de Janeiro, Brazil
Description: This sunset captures some of Rio's most famous landscapes and natural beauty.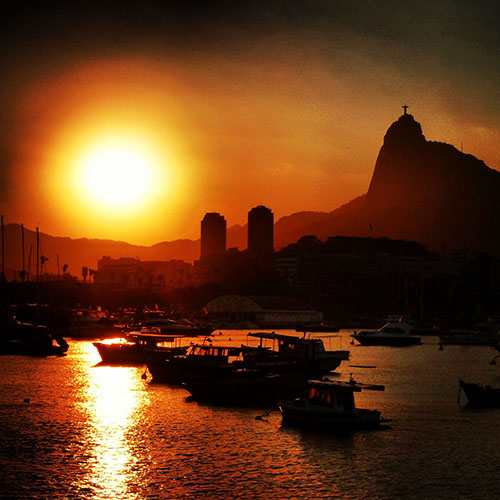 2nd Place: "Little Piece of Home"
Photographer: Taylor Galaszewski
Photo Location: Paris, France
A little piece of Wisconsin in France.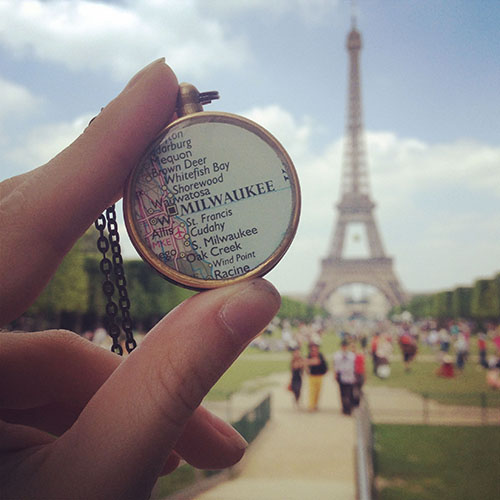 3rd Place: "Camel Smiles"
Photographer: Megan Bartkowski
Photo Location: Tangier, Morocco
Description: On my trip down to Tangier, Morocco, we spent lots of time exploring and photographing the Kasbah, the Medina, the meeting of the Mediterranean Sea and Atlantic Ocean, drinking amazing mint tea, and buying spices. But the best picture I took during this trip was when we went to ride camels. I have a very soft heart for animals, and the way the owners were treating these beautiful creatures broke my heart, so I refused to give them my money for a ride and instead became the designated photographer, snapping pictures of my friends sitting atop camels and grinning in excitement. Right before we left, I inched closer to one of the camels and gave him a smile, my heart going out to him. As I raised my camera to take one last picture, the camel looked right at me, and smiled back.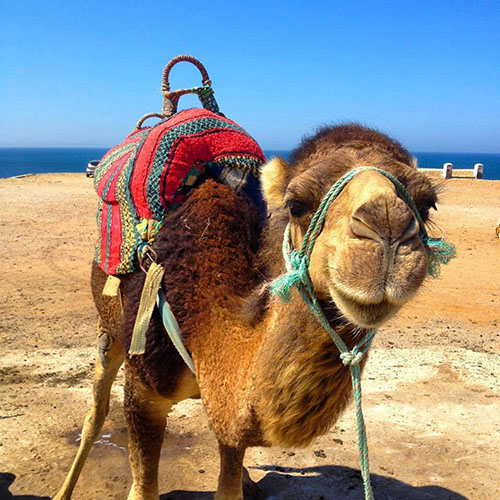 People of the World (2015 Bonus Category)
Study abroad helped shape your world view by introducing you to new people and their ways of life. Share a photo with us that captures the customs, traditions, or aspects of everyday life of the local people who became your friends, neighbors, and hosts while abroad.
1st Place: "The Music Man"
Photographer: Jane Thompson
Photo Location: Buenos Aires, Argentina
Description: This is one of the many tango guitarists at the antique fair in San Telmo, the "Feria de San Telmo". Many times he will have a dancer with him, but sometimes local pedestrians will stop and show their moves while he plays for them. Tango is the most popular dance form in Argentina, and although mostly melancholy, most everyone truly enjoys listening.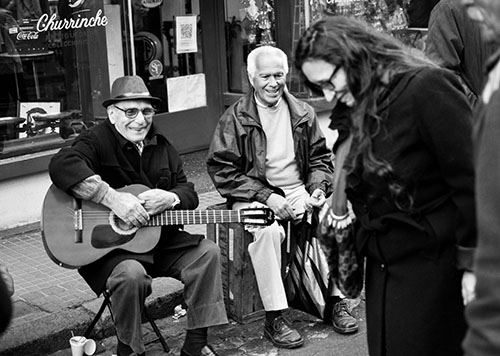 2nd Place: "Grandmother"
Photographer: Amelia Remiarz
Photo Location: Simle, Nepal
Description: By far the most memorable moments of my time abroad occurred during my homestay in the village of Simle. Each student was paired with a Teach for Nepal fellow and together we shared meals, tea, and a home with a family in the small community. As is traditional in many Nepali households, the family I was staying with spanned three generations. Although we did not share a language, the kindness and joy expressed by the grandmother in our household spoke volumes. Each day before the morning meal we would drink tea in the bedroom, smiling together at the playfulness of my young host brother. On the last morning of our stay, as we said our goodbyes, she sat perched in the window, a vision of peace, kindness, and wisdom.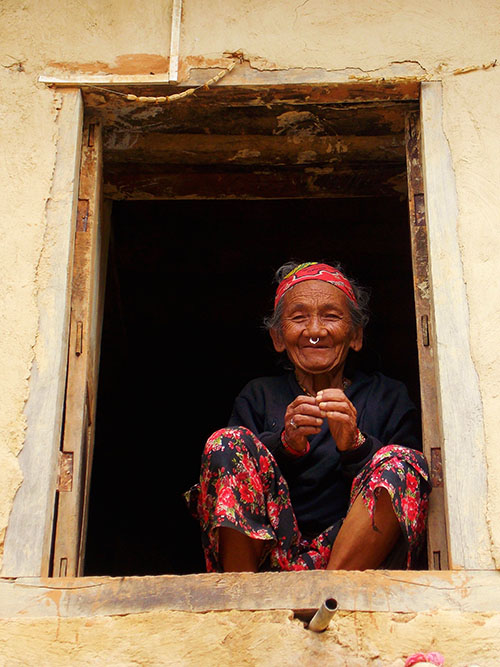 3rd Place: "Srauv Duk"
Photographer: Page Bazan
Photo Location: Seim Reap, Cambodia
Description: A Buddhist monk in Cambodia performs a water blessing called 'Srauv Duk' on a UW student. This ritual cleanses the receiver and brings good fortune and health.