Congratulations to our 2016 Study Abroad Photo Contest winners!
Postcard Perfect
Cultural Snapshot
Badger Pride
Your Best Instagram
Home Away from Home (2016 Bonus Category)
Postcard Perfect
"A picture is worth a thousand words." Submit the photo you think is postcard quality and says the most about your unique study abroad experience.
1st Place: "Serene Sunset"
Photographer: Jessica Brand
Photo Location: Melbourne, Australia
Description: A panoramic photo that shows the serene sunset in Melbourne, Australia. Dendy Street Beach is filled with the colorful Brighton Bathing Boxes used back in the day for changing into beach attire.


2nd Place: "Glacial Lagoon"
Photographer: Grace Maples
Photo Location: Jökulsárlón, Iceland
Description: The glacial lagoon, Jökulsárlón, is formed from the meltwater and ice the nearby glacier. Snow blankets the ice flows, and the setting sun paints the sky.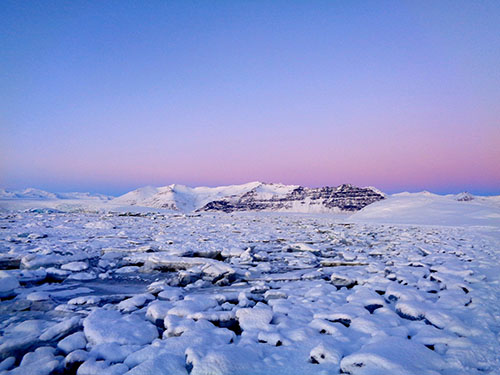 3rd Place: "Night Time Colosseum"
Photographer: Jeremy Liebman
Photo Location: Rome, Italy
Description: This photo features the iconic Colosseum as it gets lit up at night illuminating the streets of Rome. The lighting helps bring out the detail and age of the historic stadium.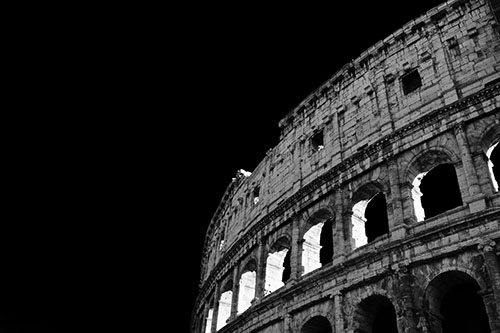 Cultural Snapshot
Personally experiencing another country allows you to expand your worldview beyond surface-level differences. Submit a photo that reflects the local culture of your program.
1st Place: "Preparation"
Photographer: Haley Kieltyka
Photo Location: Varanasi, India
Description: Along the banks of the Ganges in Varanasi many Indians perform traditional rituals. Here a man paints himself in symbolic colors as he prepares for prayer.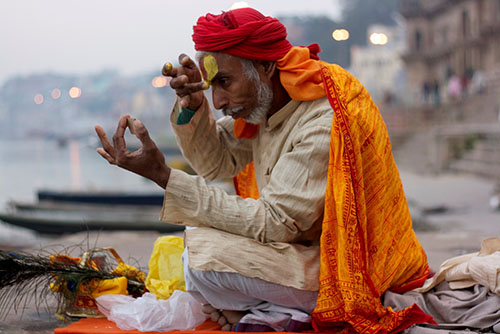 2rd Place: "Tibetan Monk"
Photographer: Cong Mu
Photo Location: Lhasa, China
Description: Very common way of Asceticism in Tibetan Buddhism.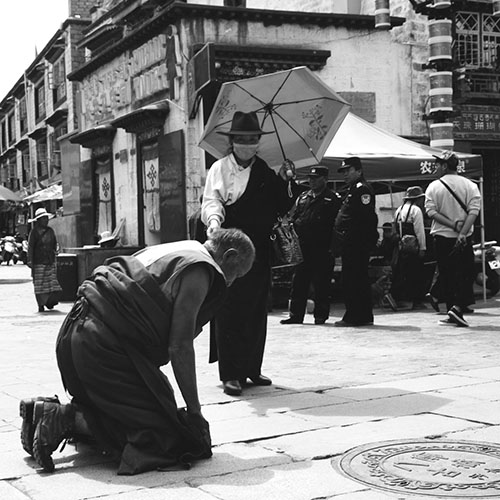 3rd Place: "Fish Vendor"
Photographer: My An-adirekkun
Photo Location: Tokyo, Japan
Description: Tsukiji Fish Market is a large wholesale market for fish central Tokyo. It is consisted of the inner area where the famous tuna auction takes place and the outer market whose retail shops are accessible by the public. (However, this market will be moving to another location very soon.) In this photo, this skillful fish vendor is cutting fish to sell at his retail shop in the outer market.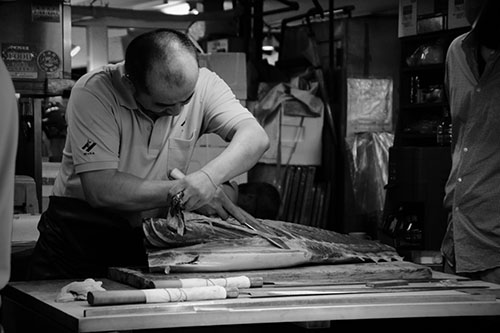 Badger Pride
Show us how you demonstrated your Badger pride while abroad (even better if Bucky somehow makes an appearance!)
1st Place: "When in Rome, Do as the Badgers Do"
Photographer: Beth Denzel
Photo Location: Rome, Italy
Description: Outside the Colosseum as the sun was beginning to set, with a belly full of gelato, and a tiny orange Terrace chair in my hand–I was truly in my happy place. #NoFilter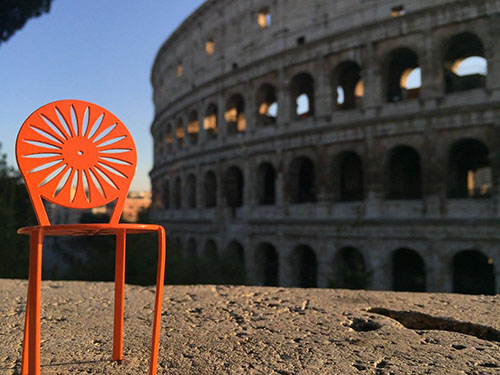 2nd Place: "Top of the World"
Photographer: Molly Gannon
Photo Location: Lisbon, Portugal
Description: Standing at a lookout point above the city of Lisbon, Portugal seemed like the perfect spot to pay homage to our Badger roots. With their very own Golden Gate Bridge over blue waters, this magical city glowed in the sunset. In between our "W" rests a statue that looks like it is straight from Rio de Janeiro. Portugal once was the edge of the world, and this photo captures that magic.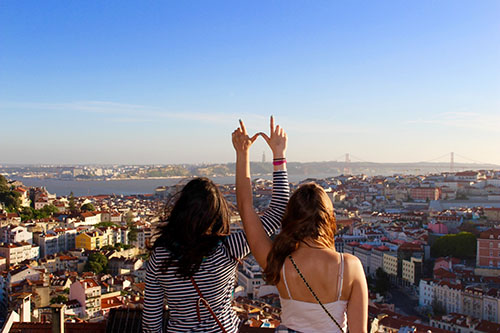 3rd Place: "Bleeding Badger Abroad"
Photographer: Jodi Klink
Photo Location: Seville, Spain
Description: After taking a Graffiti Tour through all the tagging areas of Seville, we were given the opportunity to create our very own art. Of course, I had to share my badger pride!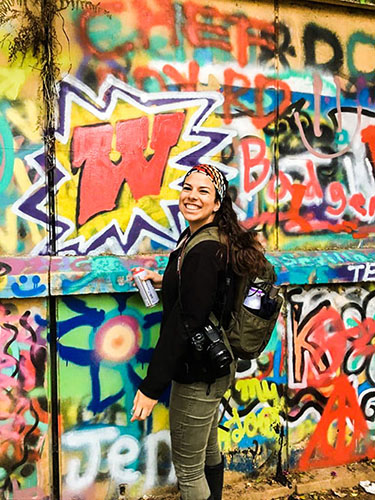 Your Best Instagram
Love Instagram? So do we! Show us how you used this popular mobile App to make one of your photos from abroad even more breathtaking than the original.
1st Place: "Down the Beaten Path"
Photographer: Kristen Romes
Photo Location: Prague, Czech Republic
Description: Overlooking the winding alleyways of Prague, just before the first snow.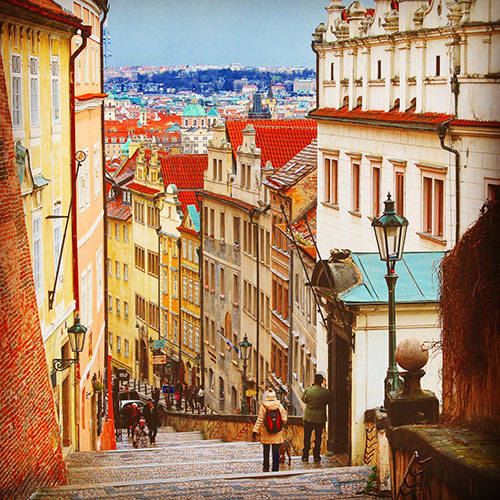 2nd Place: "Beauty on the Other Side"
Photographer: Jessica Wirtz
Photo Location: Milford Sound, New Zealand
Description: After 5 beautiful days of hiking, I came across this scene. It is the most gorgeous thing I have ever seen. The country is full of these beautiful images just like this one around every corner. It was the best adventure of my life and I can't wait to go back.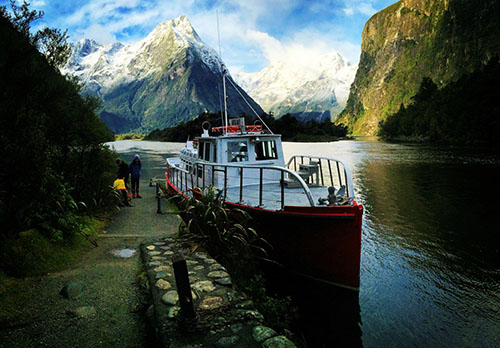 3rd Place: "Flipping Friend"
Photographer: Raquel Ebbe
Photo Location: Fraser Island, Australia
Description: While abroad, I was able to experience Lake Mckenzie, a freshwater lake on the famous Fraser Island. My small group of exchange students met some male cheerleaders from Sydney. They began to teach my friend flips and tricks. It was a beautiful, glorious day. The photo has been lifted in contrast and saturated slightly in its color. The temperature has been taken down a bit, too, thanks to Instagram's photo options.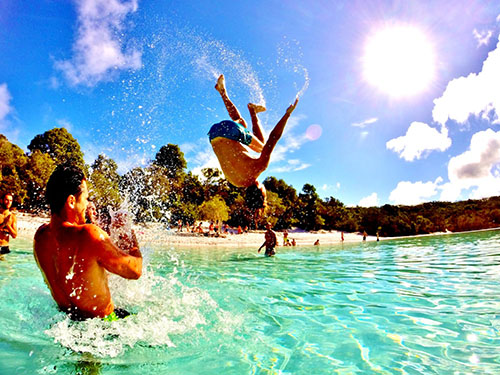 Home Away from Home (2016 Bonus Category)
Memories are made in the mundane. An English breakfast, a picture of your host mother, or the mountain view behind your house may serve as lasting artifacts of your everyday experience abroad. Submit a photo and description of the one thing that defined your experience and made abroad feel like your new "home away from home."
1st Place: "Burbujas de Alegria"
Photographer: Rachel Bero
Photo Location: San Jose, Costa Rica
Description: I took this picture one morning while our UW Madison group spent time at a daycare for local kids in Los Cuadros, Costa Rica. Los Cuadros is known for drugs and alcohol and is not considered a safe place, especially for children. Regardless, the boys and girls we played with left a lasting impact on myself and others in our group. People are what make a place feel like home.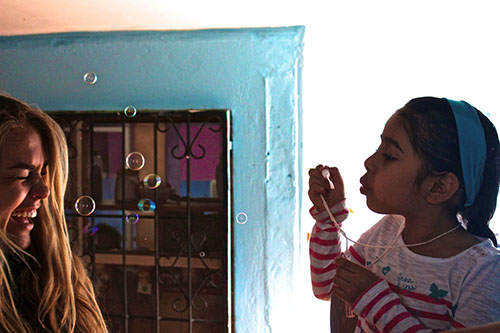 2nd Place: "Birthday Abroad"
Photographer: Susan Luo
Photo Location: Ølstykke, Denmark
Description: My 21st birthday was two days after I left the states for Copenhagen, Denmark. After arriving, I was picked up by my host family and left without meeting almost any other students! It felt a little strange, but the elderly couple I was living with made me feel at home right from the beginning. I woke up on the morning of my birthday and my host parents had decorated the dining table with Danish flags, a card, and a small gift called the "Hoptimist."It was a small, spring toy colored like the Danish flag that was a symbol of happiness, celebration, and a reminder to smile! It was an incredibly sweet gesture and gave me a wonderful start to my semester living with a host family in one of the happiest countries in the world!

3rd Place: "The Road Home"
Photographer: Kristen Romes
Photo Location: Connemara, Ireland
Description: Connemara, the National Park on the west coast of Ireland, was just on my doorstep in Galway. I never felt homesick while abroad, but I've felt "Ireland-sick" every day since coming back Stateside. This photo captures the road that I would turn onto after a long day of hiking in Connemara to get back home to Galway, and marks the first time I used the word "home" in reference to Ireland, instead of America.