Congratulations to our 2017 Study Abroad Photo Contest winners!
Postcard Perfect
Cultural Snapshot
Badger Pride
Out in the Field
Postcard Perfect
"A picture is worth a thousand words." Submit the photo you think is postcard quality and says the most about your unique study abroad experience.
1st Place: "Aurora in the Fjords"
Photographer: Taylor Spencer
Photo Location: West Fjords, Iceland
Description: After hitch hiking 4 hours to our campsite in the remote West Fjords of Iceland, we finally arrived at nighttime to the most amazing color show of the Northern Lights.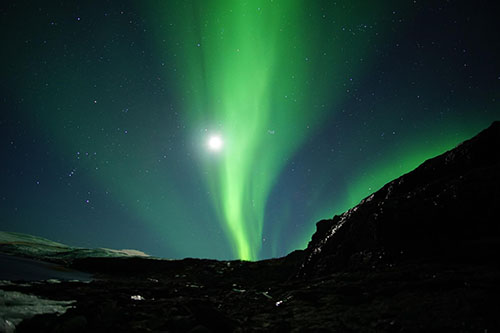 2nd Place: "Dusty Sunrise"
Photographer: Shane Linden
Photo Location: Bagan, Myanmar
Description: I'm not sure what it says about me that the most memorable moments of my Singapore semester abroad were during the weekend trips I made around SE Asia, but one look at this photo and I am confident in this decision. After a short plane ride over to Myanmar, I took an overnight bus to the town of Bagan, arriving just before sunrise. Here I was treated with a sight I will never forget: hot-air balloons rising through the hazy glow of the morning sun, hovering over countless pagodas of different shapes and sizes in perfect stillness. The scene was so incredible that I actually woke up the next day before sunrise (probably the only time in my life that has happened) to see it once again. However, nothing will ever come close to that first, magical glimpse of Bagan, faithfully captured in this picture.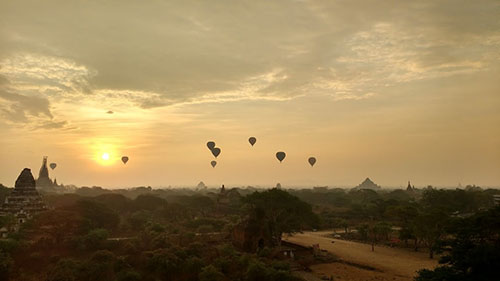 3rd Place: "Infinite Reflections"
Photographer: Laura Pham
Photo Location: Uyuni, Bolivia
Description: Waking up at 4 am to catch a sunrise across the salt flats of Uyuni, we proceeded to drive all day through the largest salt flat in the world. The light rainy season provided vivid reflections of everything around us. It appeared as if the whole world was a mirror stretching as far as the eye can see.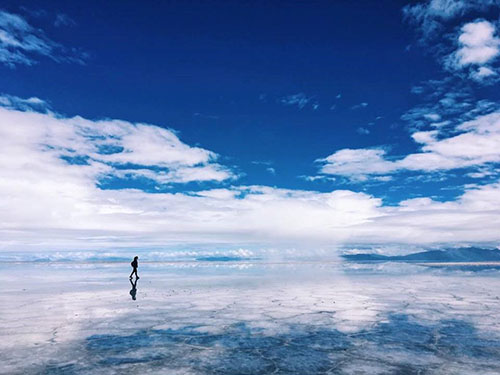 Cultural Snapshot
Personally experiencing another country allows you to expand your worldview beyond surface-level differences. Submit a photo that reflects the local culture of your program.
1st Place: "Weaving Process – Card Punchers"
Photographer: Callan McNamara
Photo Location: Varanasi, India
Description: One of the most interesting things that I have been able to experience so far is the weaving process in Banaras. Banarsi weaving is so important to the community and yet it has so many social intricacies that I had no idea about. This photo shows one part of the process where holes are punched in cards to help make the design.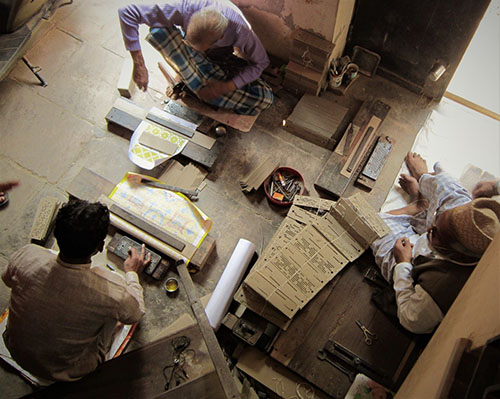 2rd Place: "Dancing in the Bubbles"
Photographer: Jessica Wigand
Photo Location: Barcelona, Spain
Description: A street performer entertaining with bubbles that floated in the air around the kids dancing and people passing by in the Arc di Triumph walkway.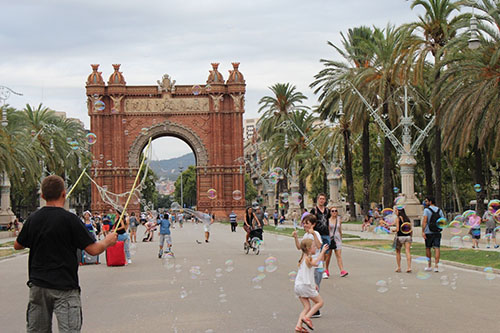 3rd Place: "East African Market"
Photographer: Ben Jarrell
Photo Location: Masindi, Uganda
Description: A woman displays her produce for sale.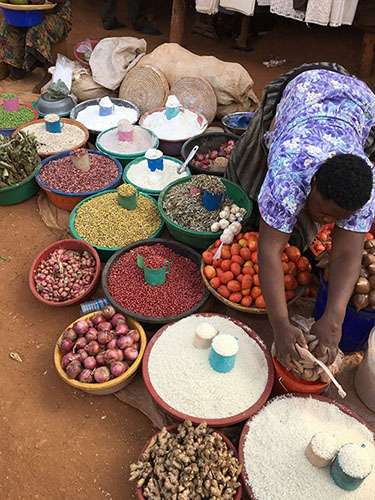 Badger Pride
Show us how you demonstrated your Badger pride while abroad (even better if Bucky somehow makes an appearance!)
1st Place: "We're Not in Wisconsin Anymore"
Photographer: Matt Foster
Photo Location: Sahara Desert, Morocco
Description: We went on a trip to Morocco and were lucky enough to spend a night in the Sahara Desert. We stopped on top of a dune at sunset and captured this amazing picture, but not as amazing as the sunset we witnessed. Naturally, we had to throw up the W.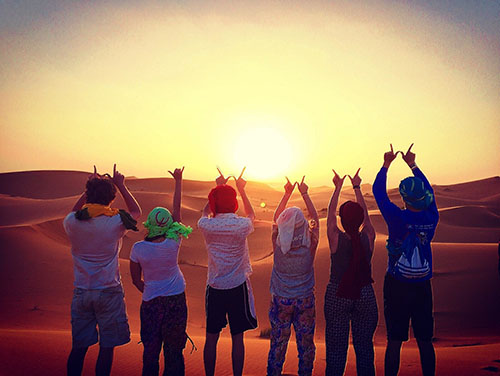 2nd Place: "The Mountains are Calling"
Photographer: Alexis Dunnum
Photo Location: Utvik, Norway
Description: This photo was taken when driving through the mountains of Norway. It was pouring rain, but the rain stopped just as we passed this beautiful valley.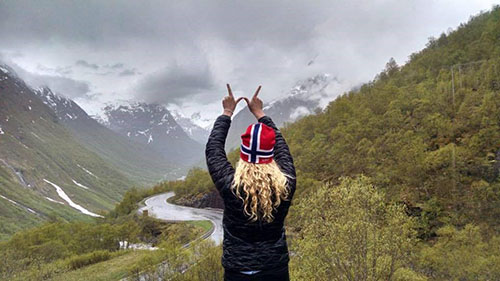 3rd Place: "Global On Wisconsin"
Photographer: Emily Wink
Photo Location: Sierra Nevada Mountain Range, Spain
Description: While hiking through the Sierra Nevada mountain range, it is easy to show your Badger Pride when you where it on your back!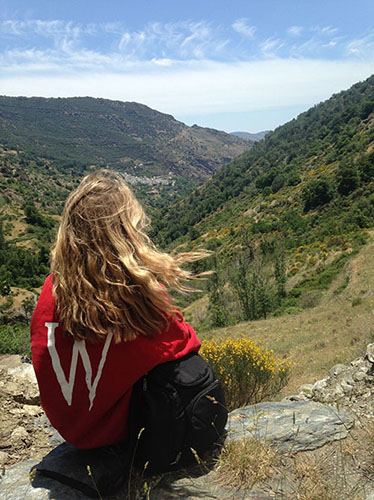 Out in the Field
Not all learning occurs in the classroom. Show us your best fieldwork, site visit, and research photos that highlight the "getting your hands dirty" aspect of study abroad.
1st Place: "Ice Caves"
Photographer: Jamie Trapp
Photo Location: Vatnajokull, Iceland
Description: Studying glacial geology in Iceland has some serious perks! We went exploring the ice caves to see how water can shape these glaciers and appreciate how amazing ice is. This cave has been appearing for the last few years and it is known as the "Crystal Cave" because of its intense blue color. Other caves that we looked at were darker because of the layers of tephra.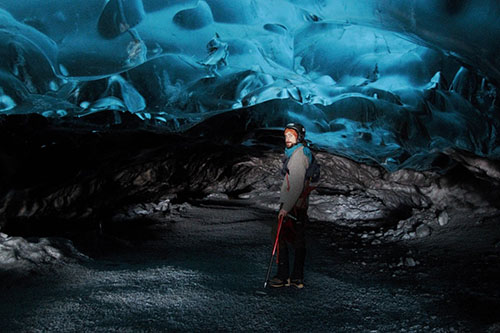 2nd Place: "Coral Colonies"
Photographer: Hayden Boettcher
Photo Location: South Caicos Island, Turks & Caicos
Description: This picture depicts a coral colony just off the coast of South Caicos Island in the Turks and Caicos. The image was taken with an Olympus TG-4 camera on a recreational scuba dive. An interesting fact about this picture is that each individual polyp in the picture is a single animal, all living together in one big colony. This specific coral is an octocoral, which you can tell from the eight individual tentacles each polyp has around its mouth. The organisms use these tentacles to grab particles floating by in the surrounding water. As an aspiring marine biologist and underwater photographer, getting up close and personal with these corals has been the chance of a lifetime. I love shooting up close, giving others the chance to see organisms in a way they have never seen before.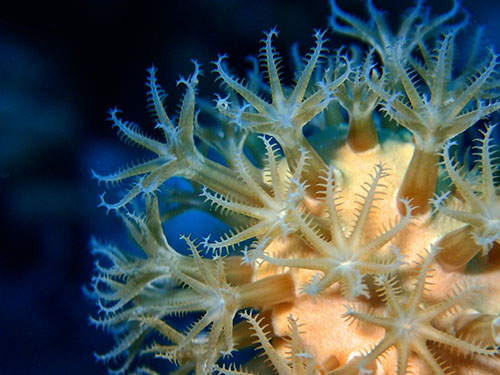 3rd Place: "Chillin': A Jumping Spider's Tale"
Photographer: Natalia Lucero
Photo Location: Santa Elena, Monteverde, Costa Rica
Description: A shot of a curious jumping spider that landed on my field book while I was researching the diversity of Neotropical Jumping Spiders within different habitats in Monteverde, Costa Rica.