Congratulations to our 2018 Study Abroad Photo Contest winners!
Badger Pride
Cultures in Communication
In Class and On the Job
Postcard Perfect
Out in the Field
Badger Pride
Show us how you demonstrated your Badger pride while abroad.
1st Place: "St. Clair Beach Poles"
Photographer: Michelle Weil – New Zealand Massey University Exchange
Photo Location: Dunedin, New Zealand
Description: This is the picture of the iconic beach poles at sunset. I'm holding up a W in the picture!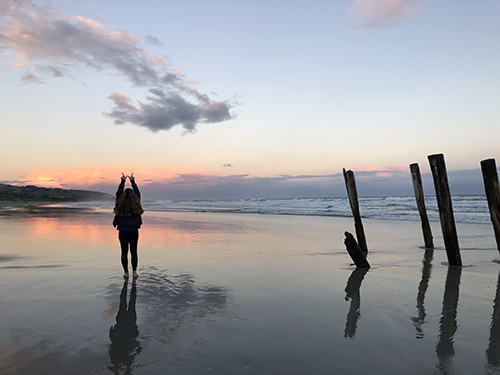 2nd Place: "SquadAbroad"
Photographer: Willian Kerwin – France Academic Program in Aix-en-Provence
Photo Location: Brussels, Belgium
Description: Reunited with close friends in Brussels, and took a picture in the historical city park, overlooking the city, on our final day together! Pictured: William Kerwin, David O'Keeffe, Jonathan Brown, John Bruckbauer.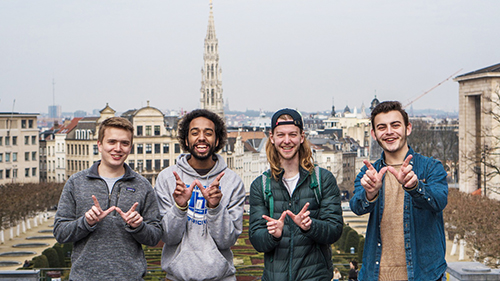 3rd Place: "Swiss Cheesin"
Photographer: Morgan Collin – Italy UW in Florence
Photo Location: Murren, Switzerland
Description: My roommates and I while abroad, Maddie Carbery and Molly Krueger, couldn't get enough of the Swiss Alp views.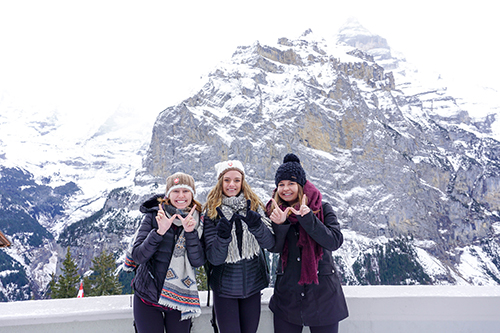 Honorable Mention: "Bucky Befriends Lennon"
Photographer: Olivia Rotelle – Spain, Barcelona, IES Liberal Arts & Business Program in Barcelona
Photo Location: Prague, Czech Republic
Description: Bucky goes international on the John Lennon Wall! Daniel DeLara, Amanda Percarpio, Maria Chatzidakis.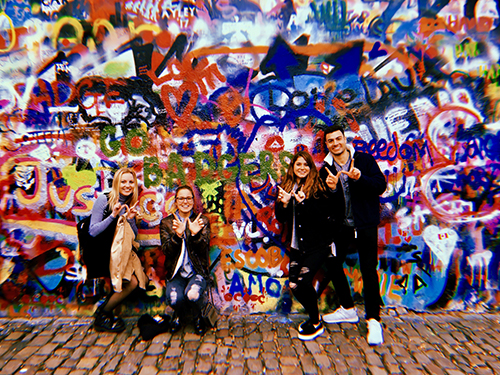 Cultures in Communication
Personally experiencing another country allows you to expand your worldview beyond surface-level differences. Submit photos that features you or fellow study abroad students engaging in a cross-cultural experience (such as teaching or learning a new skill, participating in a local tradition, celebration, or custom, or sharing aspects of culture, etc.)
1st Place: "Libertas Justitia Veritas"
Photographer: Lydia Schultz – South Korea, Seoul, Korea University Exchange
Photo Location: Seoul, South Korea
Description: This picture is of a cheering ceremony between Korea University and Yonsei University. They are longtime rivals and saying that their cheers and cheer leading is intense is an understatement. In Madison, we have our songs and our traditions, but they take it to a whole other level. Immersing myself in this cheering culture they have was the best decision I made. They take so much pride in their schools but in the end they have so much comradeship. It made me felt like I belong, even though I am foreigner. This picture was taken before both sides mixed together- and before I was dragged in to lock arms. Let's just say 4 hours of cheering was not enough for these two schools.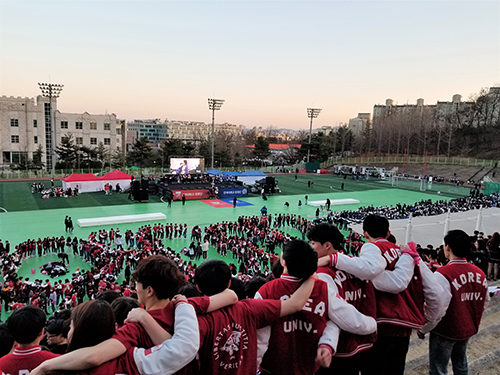 2nd Place: "Freiburg Fasnet"
Photographer: Michael Makowski – Germany, Freiburg, Academic Year in Freiburg (AYF)
Photo Location: Freiburg, Germany
Description: Fasnacht, Karneval, Fasching, or as it's called in Freiburg, Germany, "Fasnet" is a tradition dating back to the middle ages. It traditionally celebrates the start of the fasting period and beginning of Lent, but is now used as an excuse for party and celebration. In Freiburg, as in many cities across Germany, Fasnet brings a procession of floats and wacky-dressed characters parading through the streets – to the delight of many onlookers. If you're standing next to the procession however, beware! The masked "fools" are known to play pranks and scare unsuspecting bystanders!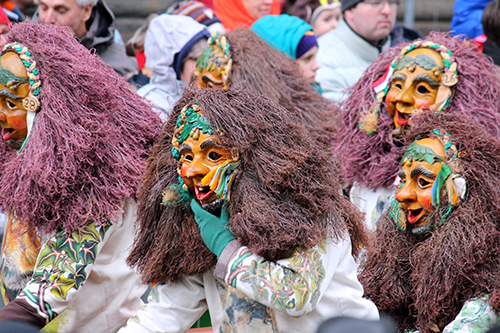 3rd Place: "Morning Milking"
Photographer: Rebecca Hoehn – Nicaragua UW GreenHouse Program in Nicaragua
Photo Location: Peñas Blancas Nature Reserve, Nicaragua
Description: Fellow student Jackie Millonzi beams as a local farmer teaches her how to milk one of his cows. Jackie and I ran into his grandchildren playing soccer alongside the road during an early morning walk and chatted with them after stopping their ball from rolling down a hill. They invited us to the nearby pasture to learn about the cows and try our hand at the morning milking. This milk is immediately made into delicious "queso fresco", which we enjoyed as part of many of our Nicaraguan meals.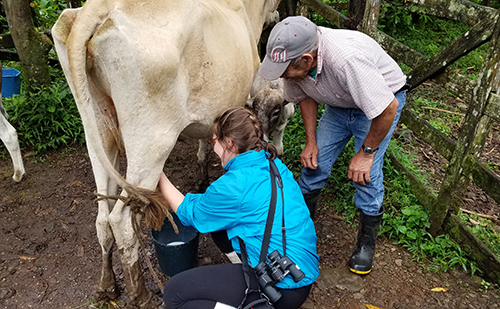 Honorable Mention: "Welcome to Bahn Dohn Pawng"
Photographer: Kayla Hui – Thailand, Khon Kaen, CIEE Community Public Health and Development & Globalization in Thailand
Photo Location: Khon Kaen, Thailand
Description: In this traditional Thai ceremony, UW-Madison senior Kayla Hui was welcomed by the Bahn Dohng Pawng community in Khon Kaen Province. The traditional ceremony consisted of prayer and a string being wrapped around the group to signify good luck being connected to all the members who were being welcomed. This cultural ceremony shows how amazing Thai hospitality is the traditions that are still being kept throughout the Northeast Region of Thailand.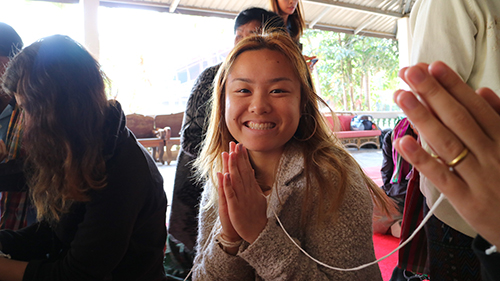 In Class and On the Job
Learning occurs in a variety of settings, including both classroom and internship environments. Submit photos capturing active engagement in the classroom, on a class excursion, or featuring your internship opportunity abroad!
1st Place: "Brandenburger Tor"
Photographer: Michael Makowski – Germany, Freiburg, Academic Year in Freiburg (AYF)
Photo Location: Berlin, Germany
Description: The Brandenburg Gate, reflected in a puddle after a rainy weekend in Berlin. This excursion away from our university in Freiburg was a weekend packed with exploring the history of Berlin and Germany. Erected in the 18th Century as a symbol of peace, the Brandenburg gate now stands as a symbol of Germany. Here once lay the border between east and west Berlin, the border of eastern, communist Europe and western, democratic Europe. It was before the Brandenburg gate in 1987 that U.S. President Ronald Reagan famously called on Soviet Union leader, "Mr. Gorbachev, tear down this wall!"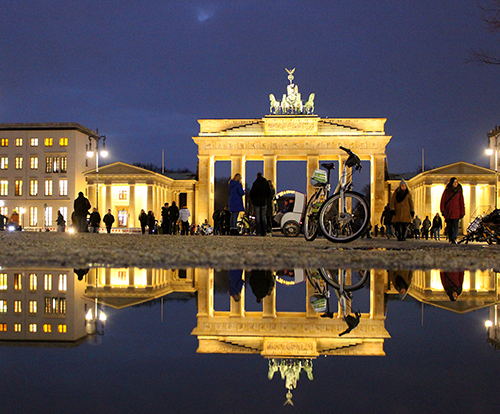 2nd Place: "Together"
Photographer: Kieran Paddock – Tanzania UW Health, Education, & Tanzanian Culture program
Photo Location: Moshi, Tanzania
Description: Through cooperation, we can achieve so much more than when we are on our own. After helping teach about sexual health and HIV/AIDS to adolescents, Maria Endries says goodbye to one of her students.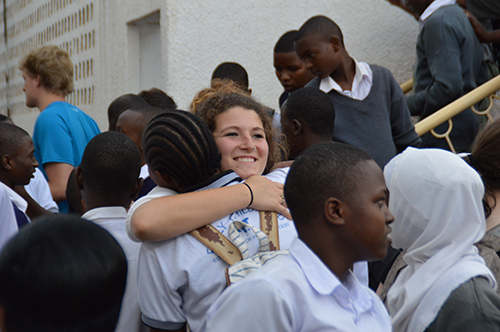 3rd Place: "Osaka Style"
Photographer: Maximilian Shakal – Japan Central Railways Internships
Photo Location: Osaka, Japan
Description: While not directly "on the job", while on a work-related trip to Osaka, we stopped by the castle on a sweltering day in our suits. Interns posing are Max Drescher and Brandon Swearingen.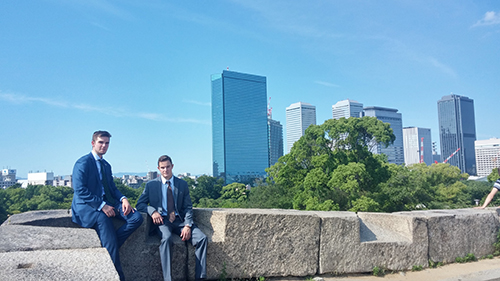 Honorable Mention: "First Exposure"
Photographer: Farhat Bhuiyan – China UW Intensive Chinese Language
Photo Location: Tianjin, China
Description: One of the first places our teachers took us was an indoor food market. We passed by spices, sweets, snacks and more. We were able to try different types of foods and see how many of them were made.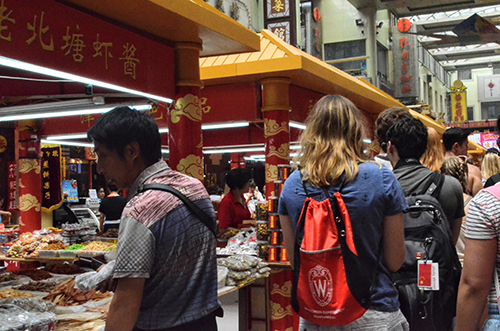 Postcard Perfect
Submit the photo you think is postcard quality and says the most about your unique study abroad experience.
1st Place: "A visit to Steyr"
Photographer: Michaela McCabe – IES Vienna Summer Music History and Performance Program
Photo Location: Steyr, Austria
Description: During the IES Vienna Summer Music History and Performance Program, we took a weekend history field trip to Steyr, Austria. This photo shows the centrality and beauty of Steyr's river!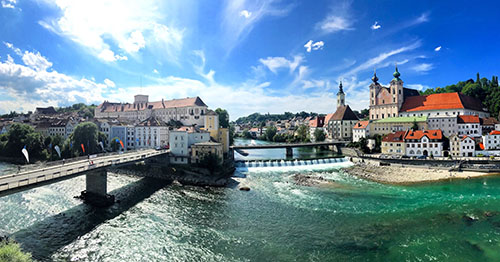 2nd Place: "Day in the Desert"
Photographer: Laura Bunn – Spain WIP Universidad Complutense de Madrid
Photo Location: Sahara Desert, Morocco
Description: Dromedaries (Arabian one-humped camels) resting at sunrise in the Sahara Desert in Morocco.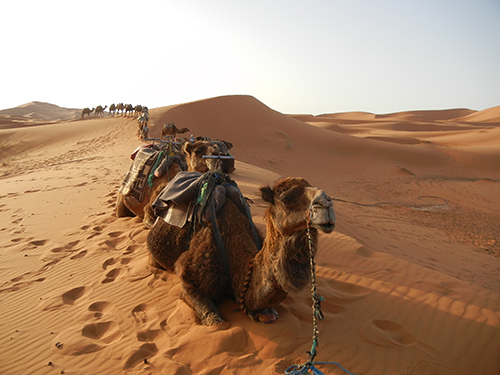 3rd Place: "Sunset over the Tracks"
Photographer: Catherine McSorley – Scotland University of Glasgow Exchange
Photo Location: Knaresborough, North Yorkshire
Description: The sun set over the train tracks in Knaresborough, North Yorkshire, ending a beautiful day exploring the old city.

Honorable Mention: "A Holy Head"
Photographer: Adam Lee – Thailand Mahidol University Exchange
Photo Location: Ayutthaya, Thailand
Description: Entangled in this tree, in the city of Ayutthaya, there is a stone head portraying the Buddha's image.This image begins with the Burmese – Siamese War in the mid 1700s. During this war the Burmese soldiers sacked the city of Ayutthaya (also know as the Kingdom of Siam). This stone head escaped destruction and was said to have fallen aside, and hidden by some brush. After the city was abandoned the stone head become intertwined in the roots of a fig tree and over time it was displayed in the now prominent position. Left and forgotten for many years it is now considered sacred.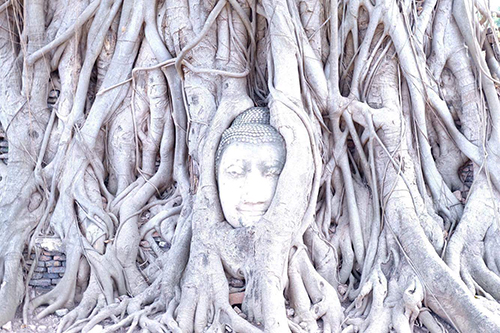 Out in the Field
One of the strengths of studying abroad is conducting research in the environment you're studying! Show us your best fieldwork, site visit, and research photos that highlight getting "hands on" outside of the lecture hall.
1st Place: "Summer Harvest"
Photographer: Cade Campbell – China UW Intensive Chinese Language
Photo Location: Zaozhaung, China
Description: Cade Campbell helping to harvest and plant green onions for the summer harvest.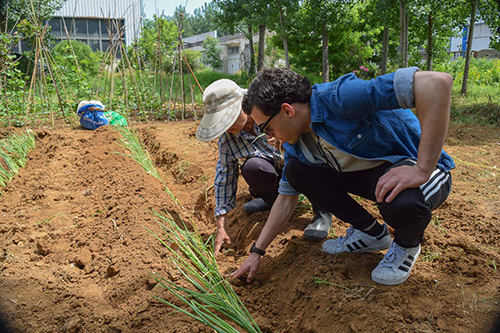 2nd Place: "Manoomin Mazes"
Photographer: Karen Wong – United States UW Exploring Ecology, Culture, and Health in the Wisconsin Lake Superior Basin
Photo Location: Ashland, Wisconsin, USA
Description: Will Mead-Davies points a camera out towards the water on the way to the wild rice (manoomin) sloughs on the Bad River Ojibwe Nation Reservation. We headed out to the rice sloughs with tribal elders and tribal youth to learn about the tradition of manoomin harvesting. As we glided through the water, we learned about the Ojibwe culture and traditions that surround the harvest of manoomin. We videotaped these teachings for the media projects we were creating in collaboration with the tribal youth. Our media projects focused on various topics including the flooding of northern Wisconsin in 2016 that impacted the manoomin harvest in Bad River.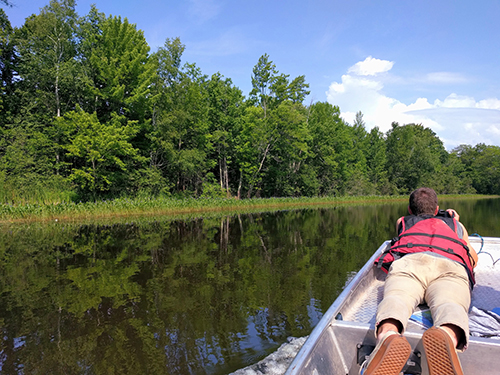 3rd Place: "Lil Hummingbird"
Photographer: Daniel Erickson – Mexico UW Wildlife Ecology in Mexico
Photo Location: Guadalajara, Mexico
Description: One of the many unique aspects of studying abroad at Los Joyas Field Research Station is the exhilaration of identifying bird species, in this case a female Allen's hummingbird. After weighing, taking body measurements, and receiving an individualized band, the hummer is released, although they are content to sit in the warmth of our hands. On this program, we were fortunate to be able to band hummingbirds in part because of the close collaboration with UW and the Universidad de Guadalajara. (Students from left to right: Nicole Perrett, Danny Erickson, Scout Kirby, Jordan Gruel)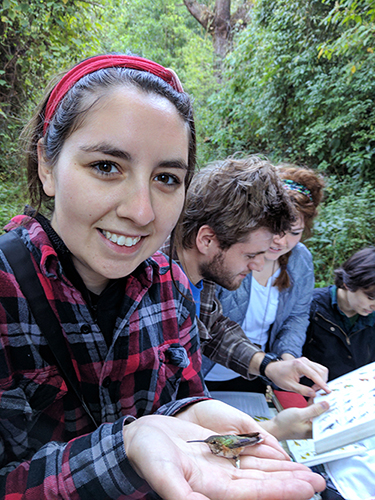 Honorable Mention: "Canopy Bridge Walk"
Photographer: Ann Turcotte – Ghana UW Health & Food Systems: Human, Agricultural & Environmental Health in Ghana
Photo Location: Kakum National Park, Ghana
Description: A photo of our group of 12 women walking across some of the canopy bridges in Kakum National Park.