Amanda Hammatt
Position title: Associate Director for Strategic Initiatives
Email: ahammatt@wisc.edu
Phone: (608) 263-2191
Address:
1150 Engineering Hall & 354 Red Gym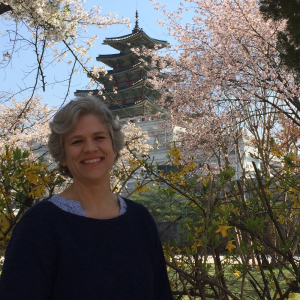 (she/her/hers)
I work to develop and maintain partnerships with institutions around the world that provide opportunities for UW-Madison engineering students to make degree progress while abroad. I also support exchange students coming to UW-Madison from around the world.
My first international experiences were to several unique destinations, which continue to pique my interest to this day. My family spent several summers teaching English to high school students in Poland, I also participated on study tours to Central America during the conflicts that ravaged those countries at that time.
My time abroad in high school contributed to my interest in majoring in Spanish while at Beloit College and led me to study abroad in Ecuador. Upon graduation, I worked for several years in Mexico helping coordinate study abroad programs and supporting students on site. I returned to UW-Madison to complete my master's degree, after which I was fortuitous to be able to return to Latin America, living for almost three years in Colombia. During that time, I never left the country and rarely left Bogotá, so I had the opportunity to explore and enjoy many of the city's nooks and crannies as well as the culture.
I have been at UW-Madison since 1999 and have worked in international education for most of my time on campus. Outside of work, I love to cook (especially ethnic food) and bake, garden, hike and enjoy time with my family!