Participating on a program will allow you to experience another culture firsthand, which in turn can give you greater perspective on yourself and your home country's culture. To prepare yourself, we encourage you to use the information on this webpage to help you build some foundational knowledge about your host culture, consider how your own identities might affect your experience away, and learn about the process of cultural adjustment.
This is an accordion element with a series of buttons that open and close related content panels.
Pre-departure Orientations and Information
UW Program Leaders, program providers, or host universities provide important program-specific information in pre-departure orientations, presentations, emails, handbooks, newsletters, etc. Be sure to participate in all required pre-departure activities and review all information provided in advance of your program's dates.
Additionally, all students are required to complete the following general online orientations, which will provide you with valuable information regarding studying abroad:
Preparing to Go Abroad Online Orientation
Health & Safety Canvas Course
You can access both orientations in your MyStudyAbroad portal within the "Orientation & Preparation" tile.
Preparing to Live in Another Culture
As a participant, you are granted the unique opportunity to engage with the culture of your host country and experience it a multitude of ways. Much of this engagement will be exciting, enlightening, and enjoyable, but at times, you may have cultural interactions that cause embarrassment and frustration. Miscommunication and misunderstandings are common when interacting across cultures, so this is to be expected and taken in stride. Taking time to learn about your host country's culture in advance will help you ease the cultural transition, learn from difficult moments, and build meaningful relationships and experiences.
What is culture?
Culture includes but is not limited to shared beliefs, ideas, values, customs, and behaviors acquired through learning from and interacting with others. Some aspects of culture are more easily observed, like food, art, dress, literature, dance, music, etc. Other aspects of culture are not as immediately visible, such as methods of communication, expectations surrounding time, attitudes towards authority and individualism, and roles related to age, gender, class, occupation, kinship, relationships, etc. The more informed you are about the history, politics, cultures, foods, religions, languages, customs, concerns, etc. of your host country, the better prepared you will be for living and learning there.
It is also important to recognize that cultures are both dynamic, growing and changing over time in reaction to local, national, and international events, and diverse, being made up of a vast variety of individuals and communities who do not necessarily conform to the broader culture. Consider how your own culture(s) varies by region and personal experience, how it has changed in your lifetime, and how you personally relate to it. The types of complexities you see woven into the fabric of your own country and your own personal experiences are also present within other countries and their inhabitants' individual life experiences.
How do I adapt to a new culture?
While away, you may find that you easily adapt to some of the cultural norms in your host country, while others may prove more challenging. Spending quality time in your local community as well as using your classes and personal time to delve into certain issues and aspects of local culture will help you understand how a place's cultural norms arose. Being respectful, flexible, and open to new ways of thinking and doing things along the way will help you gain a better understanding, and perhaps an appreciation, of why things are the way they are. It is not uncommon for participants to adopt certain new cultural attitudes and activities for the rest of their lives. On the flip side, living away may also give you new perspective, both more critical and more appreciative, of aspects of your home country's culture.
How do I start learning about a new culture?
Educate yourself about your host country's past and current events before you arrive for your studies. Some ways to begin include:
Get into the habit of reading news articles about your host country and the surrounding region. These could be international publications (e.g. BBC World, Reuters, The Economist, etc.) or local newspapers/websites from your host country.
Create a Google Alert that will email you recent articles and publications on a country, city, region, issue, or topic of your choice.
Educate yourself about U.S. politics and foreign policy and understand that there may be criticism of the U.S. in your host country. Locals will often be interested to discuss U.S. domestic and international politics with you, so it is helpful to have some sense beforehand of how other countries view the U.S. and what topics may come up in conversation.
Read books by authors from your host country and read travel guides about your host country.
Look up your host country in the CIA World Factbook.
Read blogs (such as the Study Abroad Correspondents) about your host country.
Find out what music is popular right now in your host country – set up a Spotify playlist for local artists, bands, or popular genres.
Watch movies, TV shows, and documentaries from and about your host country.
Listen to radio/podcasts on relevant international news and events.
Meet international students from your host country who are studying at UW-Madison.
Check out events on campus focused on your host country or region.
Practice the language of your host country.
Contact returned study abroad students to learn about their experiences in your host country. The Returned Student Network contains names of students who are willing to share their experiences.
Both before and during your time away research and consider the following questions:
What has been the U.S.'s historical relations and involvement with your host country?
Does your host culture prefer a direct or indirect communication style?
Is your host culture more individualistic or collectivistic?
Does your host culture tend towards a greater or lesser degree of formality in comparison with your culture
How are eye contact and gestures used differently?
How does the host country view time? Are locals early, late, or on time for meetings? Are they past- or future-oriented?
What role does the family play in the host culture? What role will you play in your home stay, if that is where you live?
How are gender roles different or similar to what you are used to?
How is privacy viewed?
How close should you stand or sit when talking with someone you know only slightly, or know well, or to a stranger?
Are there topics which are inappropriate to discuss with acquaintances, or inappropriate to discuss at all?
What role do elders play in society?
How might alcohol be viewed?
Does your host culture have different practices when it comes to cleanliness?
What is a dating relationship like in your host country?
What is the power structure and politics of your host country? Educational structure?
Can you answer these questions based on your home culture as well?
Student Identity
We work to make programs possible for all UW-Madison students, and we recognize that many students face different questions or barriers when preparing to participate. These include not just academic or financial considerations, but matters of identity and inclusivity.
While it is important for you to make an effort to learn about the culture you will be entering, it is also important that you consider your own identity and how it might impact your experience. When you enter another culture, you carry with you a unique set of personal experiences, abilities, challenges, and preconceptions. You carry your own perception and understanding of who you are, and you will also have others interpret and project their own perception of who you are upon you. It is helpful to begin exploring how the experience of being in another culture, with its different norms and expectations, will affect the various aspects of yourself.
Your own identity will affect your experience in a variety of ways, and will grow and change. Self-reflection may be particularly important for students whose gender, race, ethnicity, sexual orientation, or ability may influence access to parts of another culture. Studying and traveling away may mean leaving behind supports — physical, social, legal, emotional, psychological – some of which may not exist in your host country. Depending on how you identify, some locations may feel much more comfortable and accepting than your home country while others may feel less welcoming.
To learn more about identity and questions to ask yourself as you prepare for your program, review our information on Student Identity. If you have questions or concerns about student identity and the role it may play in your experience, don't hesitate to contact your Study Abroad Advisor.
Recognizing Cultural Adjustment
This process of encountering and adapting to a new cultural environment can be alternately exciting and challenging, both exhilarating and exhausting. Likewise, returning home and having to re-adjust to one's home country's culture can be equally wonderful and frustrating.
No two students adapt at the same pace or in the same manner; however, there are several phases of cultural adaptation that are commonly experienced by people living in another culture for an extended period of time and then upon returning home. Some people may go through all the phases as listed here; others may experience some parts of the process more or less intensely based on a variety of different personal factors.
Below is a diagram that illustrates the process of cultural adjustment as well as a link to a chart with descriptions of the various phases. Exploring both can provide a framework for understanding your own unique experience.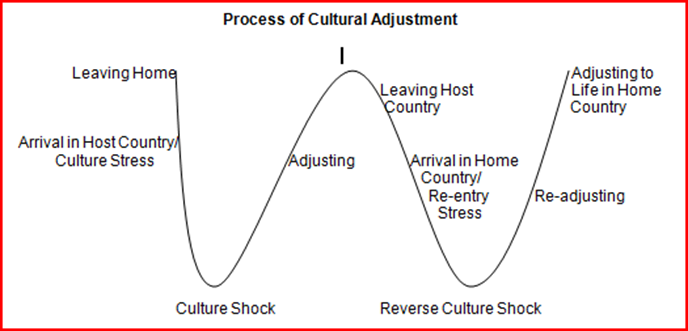 Navigating Cultural Adjustment
It is important to remember that cultural adjustment can be challenging and that you will likely be affected one way or another during your time away. Knowing that challenges related to cultural adjustment will not last forever is comforting and it is important to have certain supports in place to minimize their impact:
Make an effort to meet people, as locals are not likely to seek you out. This could mean getting involved with local sports leagues, social groups, clubs, or local volunteer opportunities. Find something that is familiar to you in the host culture or something new that peaks your interest and participate.
Plan a daily activity that involves getting out and interacting with people aside from going to class. Simply walking around your neighborhood and city with a new friend is a great way to pass the time and get to know your surroundings.
Keep a journal or blog. Writing about your daily experiences provides you with a detailed record of your experience, helps with processing your experience, and may help you cope with your cultural adjustment.
Stay open-minded and curious. When you find yourself feeling like your home culture is superior in some aspects, try to understand what particular local needs your host culture is meeting by doing things differently.
Continue learning and practicing the local language. Consider finding a language buddy who may also be interested in practicing their English.
Continue to familiarize yourself with U.S. politics and foreign policy, particularly with regard to your host country and surrounding region.
Remember your motives for participating on a program.
Try not to focus on the bad. Instead, look for the humor in difficult situations. Things that go wrong often make the best stories when you return and provide an opportunity to learn and grow.
Be gracious and try not to be offended by cultural norms that are not considered polite or appropriate in your home culture. Try to understand the host country's mannerisms, habits, and accepted norms so you can avoid taking offense at things you are not used to abroad. In some cases, uncomfortable situations can provide the opportunity for conversation and lead to greater mutual understanding of cultural differences.
Resist the urge to immediately call or message your family and friends when you are upset or are met with a challenge. The next day your feelings or situation may have changed, but your family and friends are left thinking the worst. One tactic is to write out your thoughts in order to release your frustrations, but not send it (or at least not right away). If you feel better the next day, discard it. If you are still upset, go ahead and share your feelings with your family or friends.
Do not hesitate to talk to on-site staff or your Study Abroad Advisor about any ongoing difficulties you are experiencing. They will be happy to help you or put you in touch with someone else who can meet your needs appropriately.
Engaging with Your Local Community
We encourage you to move beyond being a tourist in your program location and form meaningful relationships by plugging into your local community. Here are some ways to do this:
Read the local news and stay in-the-know about local issues and events
Join a student organization at your host university or program, such as the exchange student association or an outdoors club
Expand upon an existing hobby or gain a new hobby, by connecting with local groups, such as joining a soccer league, local climbing gym, or community choir
Find a weekly social event, such as a salsa/bachata/swing/tango dance or music jam session, and attend it regularly
Become a fan of your local sports team and attend or watch sporting events with friends
Join a book club or attend local poetry readings
If your program offers a buddy program, sign up and meet consistently
Join a conversation group where you can practice the local language and help others practice English
Attend religious services or meetings with your local faith community
Volunteer with a local organization and engage in community service
Do an internship, making professional and personal connections while developing new skills
Greet your neighbors and visit the various shops or businesses near where you live, even if you aren't sure exactly what they are
Form friendships with locals the same way you would at home by showing interest in people and their lives. Ask about the things that matter to them—their family, faith, food, and what they do for fun—and be prepared to share about yourself and your home culture
Want to make the most of weekends spent in your host community? Explore ideas for Staying Local and Enjoying the Place Where You Are.
Photography
As social media and photo sharing become more and more prevalent, it is essential to recognize the power of photos to shape perceptions of people and places, and therefore to learn how to create and share images ethically.
Studying abroad comes with opportunities to be in community with the host culture in both public and private settings. It is critical to be considerate when photographing sites, experiences, and people, taking into account the local cultural context. It is your responsibility to evaluate your images for cultural appropriateness and sensitivity to avoid images that:
Stereotype,
Exploit,
Disrespect,
Make false generalizations,
or lead to inaccuracy or misrepresentations of the host country, people, or setting.
Take some time to define your own code of ethics when taking photos abroad. Generally, you should:
Be aware of locations where photography is not permitted and be respectful of the rule.
Before taking or posting a photo of a person, imagine that it were a picture of you and ask whether you would feel comfortable having that image taken or posted online.
Ask permission before both taking and posting pictures of people. By default, this can be a great way to meet people. If you do not speak the local language, consider traveling with a few small flash cards with simple phrases (e.g., "May I take a photo of you?" "Photo?" "Yes/No", "Thank You") that are translated into both English and the common language of the area.
Be mindful of taking, and particularly, posting any photos that have children in them.
Consider taking candid shots of people actually doing things and depicting elements that communicate something about the surrounding locale rather than just the group shots in front of an iconic symbol of the country. Think less like a tourist and more like a local who is communicating what it is like to be in an area and participating in day-to-day events and activities.
We welcome the submission of photographs by students, alumni, and UW-Madison faculty and staff willing to share their photos. Photos must strive to be an honest representation of the educational experience and the culture in which a program takes place. In turn, we will be thoughtful and purposeful about the photos we use in order to reach students and represent our programs.